Adrian Grauenfels.
Editura SAGA. In Romanian.
2019.
Miriam Gamburd is one of the most outstanding and intriguing Israeli visual artists. For many years, she has been building a unique language, making use of a technical virtuosity and of a particularly strong expression which has found its deep roots in such genres as: Renaissance, Symbolism, and Expressionism. From all points of view, her work of art has a touch of peculiarity and a special class. Her latest exhibition opened in Tel Aviv, at the Artists' House, in Alcharizi Street (February 7, 2019 – March 2, 2019) was the triumph of a high quality and deeply elaborated art, which had nothing to do with the forced and artificial modernism that, generally speaking, art galleries try to impose on us. In two exhibition halls situated at the second floor of the building, Miriam displayed her architectonic vision of a sculptor and of a drawer. Her topics seemed to have come from a remote past, from The Talmud or from The Bible, or even from medieval Europe. In some other cases, one could find them in a vivid dialogue with European Classicism. According to the artist's conception, the physical and the metaphysical go perfectly hand in hand. Her sculpture, 'The Birth of Lilith', was inspired by the gargoyle water spouts at St. Vitus Cathedral in Prague. When nobody sees him, he spits water and fire. In The Bible, Lilith was mentioned only once, in Isaiah 34:14. "The wild beasts of the desert shall also meet with the wild beasts of the island, and the satyr shall cry to his fellow; the screech owl also shall rest there, and find for herself a place of rest."
The sculpture 'Plum Blossom' is inspired by an old and touching Japanese legend. There were a lot of drawings and sketches which reminded of scenes and characters of a Talmudic origin, such as Lilith, the winged demon. She was Adam's first wife. One could also admire well documented sculptures or complex constructions. They were inspired from Miriam Gamburd's book, The Pulse of the Evil Impulse, which, roughly speaking is a visual ode for all the stories in The Talmud and in The Misdrashim. Showing strength and determination Miriam Gamburd dealt with "taboo" topics both in art and in Judaism. She is one of the best drawers in Israel. As in the Renaissance, she outlined and modeled her figurative milieu with a skillful and precise touch. Upon closer inspection one can realize that her drawings had nothing to do with reality nor did they aim to describe it minutely. Making use of the technique of a precise and classic drawing, she lured the viewers, inviting them to go along with her to an elaborate trip which will never accept any conventions or limitations. Finally, the artist remained faithful to the accurate portrayal of a message which gathered together the present, the myth, and the tradition. The physical environment which she created will never be enough for the artistic themes and elements portrayed by her.
According to Arie Berkowitz, the Curator of this exhibition, "Miriam Gamburd's oeuvre is rich in creative imagination and at times theatrical". It can slip easily straight to Surrealism. Love and pain can definitely be seen and experienced in all her artistic works.
Entitled in a suggestive way "Homo vulgaris", Miriam Gamburd's exhibition represented the long way of human evolution from homo sapiens to homo erectus, and finally to the present homo vulgaris. On a 33 ft roll of paper she achieved a drawing which was the quintessence and the echo of her past drawings and sculptures. Thus she created an immense and vast Pantheon of the ideas and topics that had tormented her. One can notice one detail after the other: the anatomy of a human body, a Roman soldier riding his horse, mythological or imaginary animals, angels, and deliberately drawn touches which brought to the viewer's mind the imaginative outlines of a fresco whose elements were made of a continuous dialogue. Since each detail had its own perspective and significance, the white spaces needed a minute examining.
Naked old men stand up in a circle and have a strong argument. A bit farther three women pull their heir. Drawn upside down, a few geometric Christs try to find their unconventional architectonic positions. They are nailed on some vaguely pictured crosses. Not far away from the mosques in Baku or Dubai, angels, birds, modern choppers, scaffolding drawings, and futuristic buildings make room to some utopian cities adorned with squares reigned by those Classic statues made by Rodin or by Antonio Canova.
But one does not have to think that the artist's imagination was limited only to that. Next we shall see hijab-covered Muslim women, sketches of sculptures made in the past by Miriam Gamburd, angels hugging themselves in explicit positions. No doubt, the viewer was in front of a real masterpiece, a virtuous drawing, full of connotations and associations induced and conveyed skillfully by the artist. Through all its intellectual conception, the spirit in this exhibition of an extraordinary force of creativity kept being sharp, lucid, and sometimes even caustic.
From the height of a wall and above our heads, the demon of Lilith watched us. It embodied the modern human being. It was a hybrid made in the shape of a human body.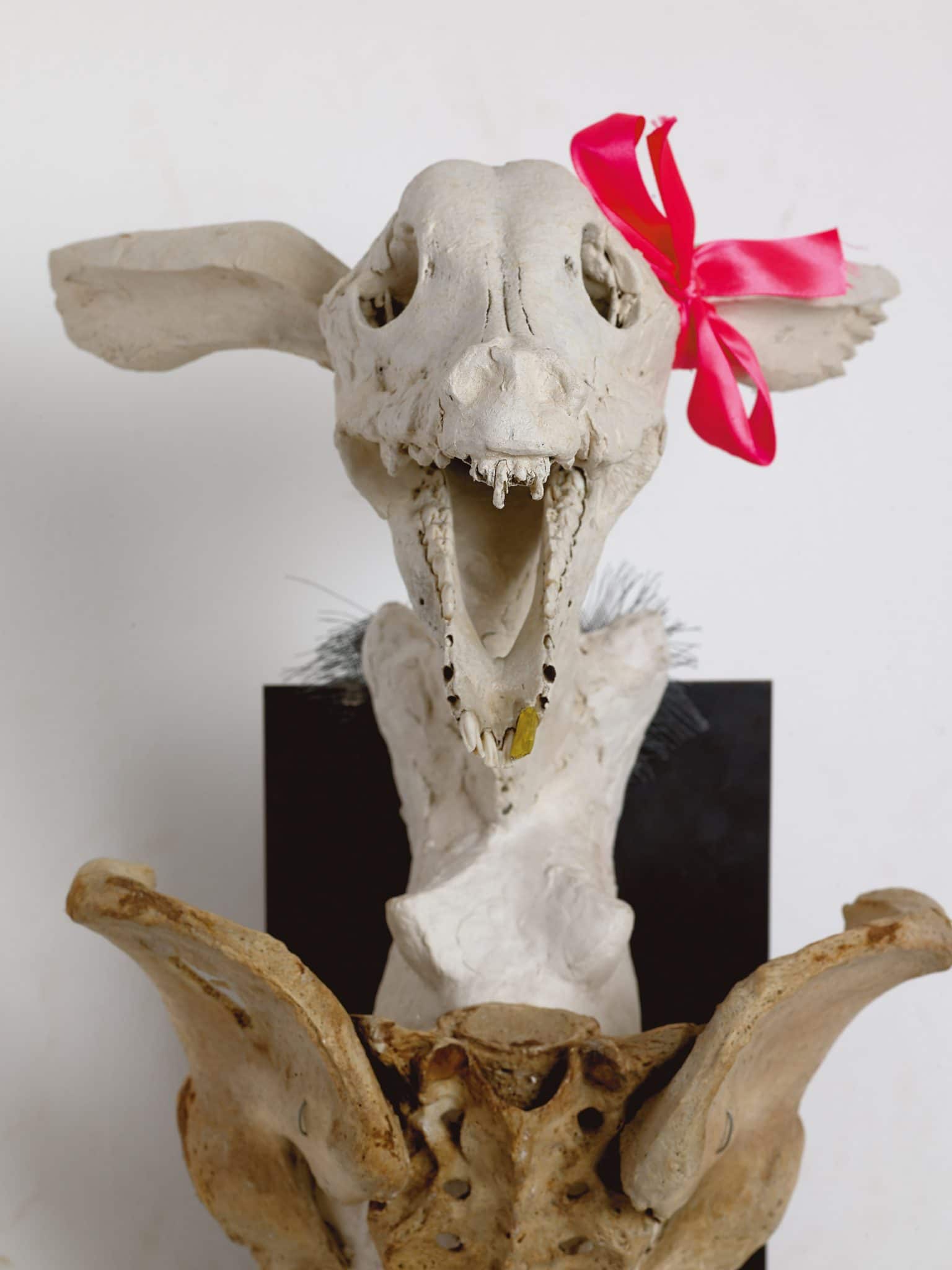 She had two legs and a long neck which sustained the skull of a carnivorous animal, a female with intact ears. Her intriguing legs were completely uneven from each other. One leg was humanlike, while the other one was twisted at 180 ° degrees. It ended up in the shape of an animal calf, which is not quite kosher with the Jewish. These contradictions are the echo of the modern man's mutations and dilemmas. Consequently, he will never be able to give up his dogmata, nor will he ever be able to renounce his purely animal essence. In the end, smiling sarcastically, Miriam Gamburd adorned homo vulgaris' ear with a clashing pinkish bow similar to the kitsch which plagiarizes arts all over the world.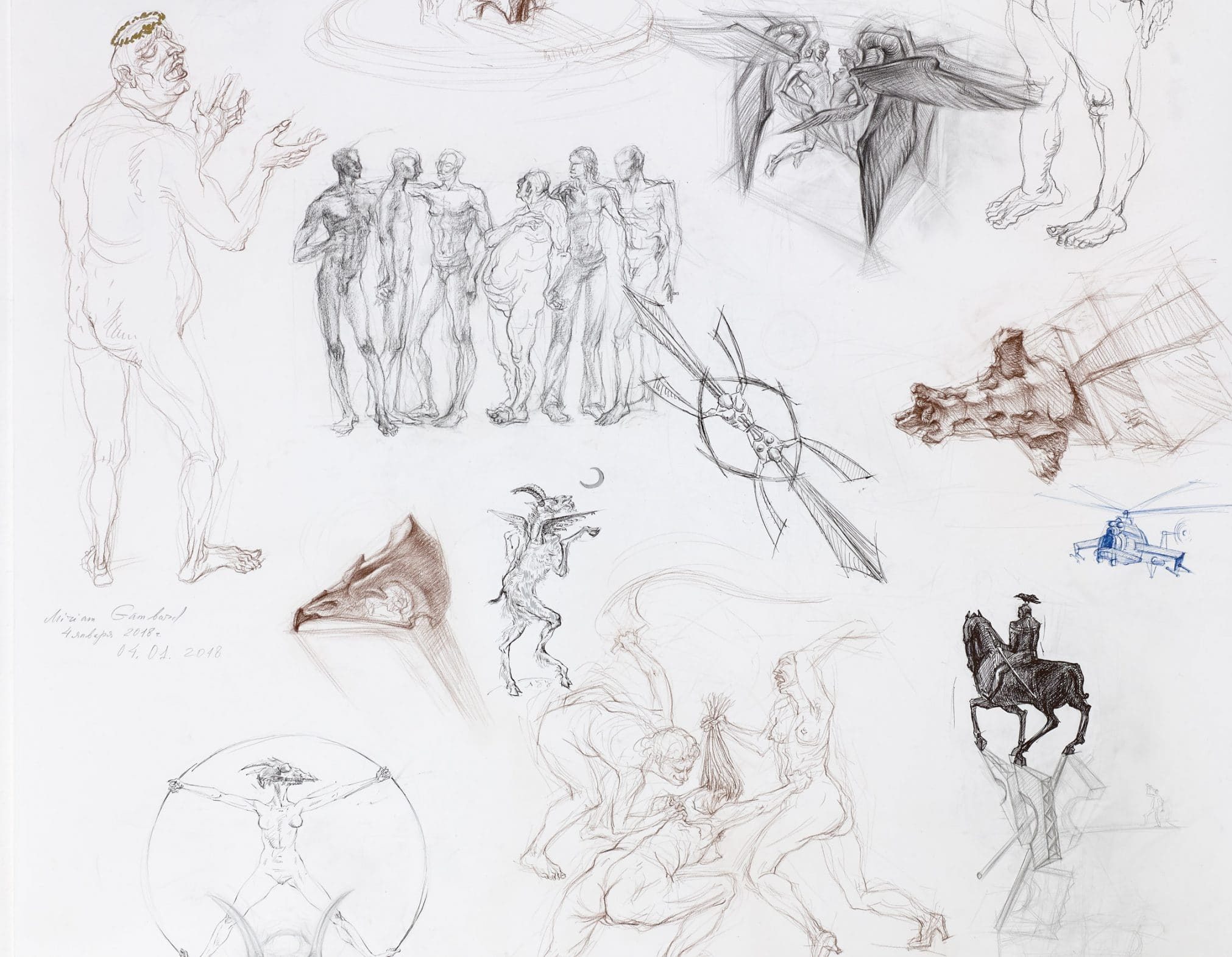 It was worth visiting "Homo vulgaris" exhibition. It gave us the opportunity to understand how much we have moved away from the aesthetic ideal of the arts which have been plagiarized and undermined by so many ideologies and sectarism, but most of all by our ignorance and cultural decay.
---
Translated from Romanian by:
Muguraș Maria Vnuck and David Paul Vnuck, Grand Rapids, Ohio, United States of America.