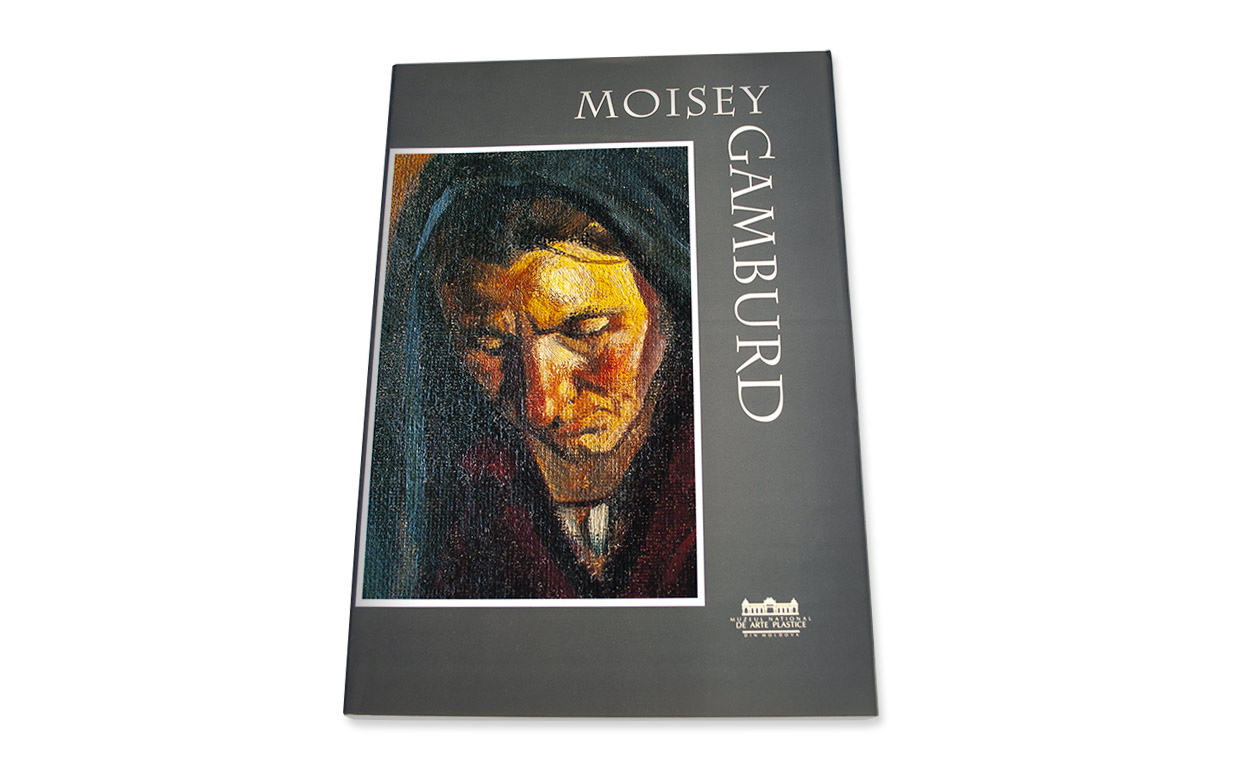 The album contains about 50 paintings by the artist and 60 drawings. The text is in English, Romanian and in Russian.
The album was edited in 1998 by the National Art Museum of the Republic of Moldova, the Academy of Sciences of Moldova (Institute of the History and Theory of Fine Arts) in cooperation with the artist's daughter; 160 pages, 24,5/34,5 cm.
Monograph "Moisey Gamburd" is an album-like book about the life and creative work of Moisey (Max) Gamburd (1903-1954), classic of Bessarabian and Moldavian art. The author is Ludmila Toma, Doctor of the History and Theory of Fine Arts, with the participation of Dr. Grigory Ostrovsky and Miriam Gamburd. 'A lost artist', reveals a gifted representative of the figurative trend in the European art, who created in the period before the World War II and in post-war Soviet years.
Moisey (Moshe) Gamburd was born in Kishinev in a religious Jewish family. Against his parents' wishes he moves to Belgium, where he enrolls at the Royal Academy of Arts. From 1925 to 1928 he studies in the Studio of Decorative Painting under Prof. Constant Montald. Upon graduation from the Academy he receives the Silver Prize for his final work. He lives in Paris – until –in 1932 he comes to Palestine to take part in a local art life that did not dazzle with variety in these years. Nevertheless, some drawings by the artist are related to this period of his creation. Two of them are now in the collection of the State Tretyakov Gallery. In 1936 Gamburd leaves Eretz Israel and moves to Romania, where his large personal exhibition in Bucharest's Foundation Dalles Gallery in 1940 meets with great success, about which the delightful responses in the press of these years bears witness. After the annexation of Bessarabia by the Soviet Union Gamburd and his family move to Kishinev. Treatment of those in power to Gamburd can be named 'the stick and carrot policy': he was surrounded by various honors, but each stroke was dictated. In 1954 Gamburd committed suicide, at the age of 50, after his jubilee personal exhibition at the State Art Museum of the Moldavian Soviet Socialist Republic. He was posthumously recognized as a classic of the Moldavian visual arts.
Works by Moisey Gamburd are to be found in the National Art Museum of the Republic of Moldova, in the National Museum of Art of Romania in Bucharest, in the State Tretyakov Gallery in Moscow and in the private collection of Miriam Gamburd, the artist's daughter, in Tel Aviv.
---
Two early canvasses by Gamburd are represented in the 6th volume of the State Tretyakov Gallery 'Art of the 1st Half of the 20th Century', page 149. Edited in 2009.
Information about Moisey Gamburd:
Reproductions from the monograph "Moisey Gamburd"